I am interested in this product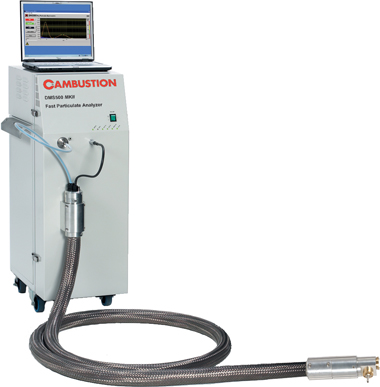 Electrical mobility measurements of particles with sensitive electrometer detectors, allowing generation of particle size/ number distributions in real-time.
I am interested in this product
Downloads
Detailed Specs
DMS500 is ideally suited to laboratory or engine test cell applications. The DMS500 system is a non-certification system which uses a different technique to measure particle concentration. The system offers a significantly faster time response, and is correspondingly able to give greater insight into transient calibration issues which contribute a significant proportion of the total emissions on cycle. The DMS500 has been adopted by vehicle manufacturers and engine developers worldwide as a key tool to understand and reduce particle emissions, particularly from GDI engines.
Measurement of the engine exhaust particle size / number spectrum from 5nm to 2.5μm
The fastest time response available: 10 Hz data, 200ms T10-90% response
Built-in two stage dilution for direct engine exhaust measurements
Mass measurement and automatic aerosol mode discrimination for solid particle number counting (for Euro 6 development)
Test cell integration via AK protocol – suitable for auto mapping projects
Capable of cold-cell testing
Capable of high-altitude testing
The DMS500 may be ordered with an optional integrated two-stage diluter and heated sample line, allowing direct measurements from engine exhausts with no additional equipment. The dilution system extends instrument cleaning intervals, allowing the DMS500 to join other test cell equipment as standard tools. The unique combination of the particle size range and the time response of the DMS500 allows investigation of previously un-measurable events. Each DMS500 undergoes an empirical calibration procedure, involving real aerosols, taking full account of particle losses, and even different particle morphologies thus preventing the drop in accuracy at larger sizes seen in some other analyzers. Calibration certificates for spherical and agglomerate calibrations are provided. The DMS500 automatically discriminates between aerosol modes. When applied to Diesel or GDI exhaust, this allows the Nucleation (liquid) and Accumulation (solid) modes to be processed separately, enabling PMP (proposed Euro 5/6 particle N/ km) comparable number concentration measurements without the use of a Volatile Particle Remover. The instrument also calculates real-time particulate mass concentration. All instrument outputs may be compensated in real time for total exhaust mass flow, with a suitable external analog flow signal.