I am interested in this product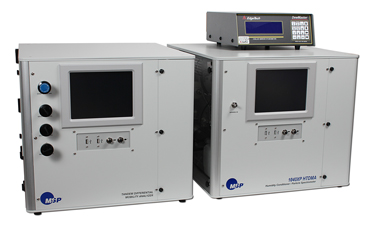 The Humidified Tandem Differential Mobility Analyzer (HTDMA) is a multi-function aerosol instrument comprised of :
I am interested in this product
Downloads
Detailed Specs
an atomizer aerosol generator, a non-radioactive electrical ionizer, a differential mobility analyzer (DMA) and a condensation particle counter (CPC) for monodisperse aerosol generation and measurement
a high-accuracy humidity conditioner
a differential mobility particle spectrometer
The HTDMA method has been used to study the growth of hygroscopic particles in humid atmospheres. For such studies, the aerosol is generated at one relative humidity and following electrostatic classification by one DMA, the aerosol is then exposed to a different relative humidity. The resulting particle size is then measured by a second DMA with a CPC to determine the change in particle size due to moisture absorption or desorption by the hygroscopic particles.