I am interested in this product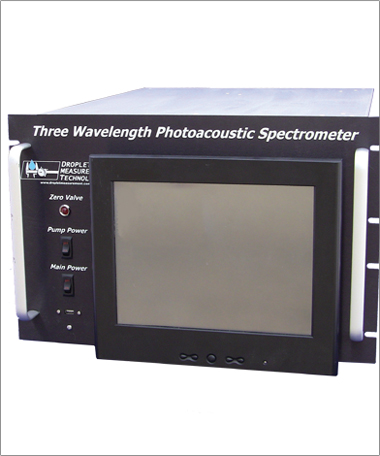 The PASS-3 is a sensitive, high-resolution, fast-response instrument for measuring the absorption coefficient of aerosol particles.
I am interested in this product
Downloads
Detailed Specs
It uses three wavelengths (red, green, and blue) to enhance measurement capabilities. Sample air is drawn through a resonator at an approximate rate of 1 lpm. The laser beam is square-wave modulated at the frequency that matches the resonance acoustic frequency of the resonator. Aerosols in the air stream absorb light, causing periodic heating of the gas in the resonator. The heated gas expands, creating a sound-source pressure wave. Since the heating is periodic, with frequency fres, the resultant sound wave will have frequency fres. A microphone attached to one end of the resonator measures this sound wave. The other end of the resonator contains a piezo electrical element used for finding the resonance acoustic frequency fres of the resonator. The laser power is measured with the integrating sphere/photodetector. This information is then used to determine the absorption and scattering coefficients.