Aerosol Instrumentation >>
International Conference on Aerosol Climate Change Connection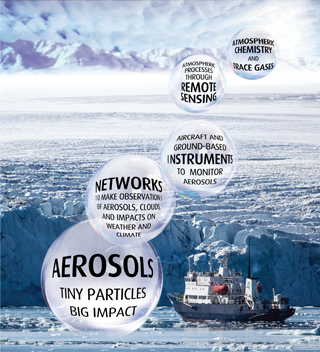 April 25 – 27, 2017
Bose Institute, Darjeeling
Tesscorn provides accurate and reliable instruments to measures aerosol particles. Field studies enhance the understanding of the processes that affect aerosols. Monitoring networks, provide a continuous record that is critical to improving air quality and climate.
Please visit our booth to learn more on instruments for Aerosols (mass, composition, size distribution, light scattering, light absorption); Vertical Profiling: Aerosol LIDAR Network (capable of determining the range of aerosols and clouds continuously in an autonomous fashion) and Microwave Radiometer; Cloud Radar (for the study of cloud structure and composition; measurements of reflectivity, velocity and polarization fields); Trace gas measurement; Real-time measurements of volatile organic compounds (VOCs) in air with a high sensitivity (limit of detection several tens of ppt); High-Resolution Time-of-Flight Mass Spectrometer and Aerosol Chemical Speciation Monitor (measures bulk chemical composition of the rapidly evaporating component of sub-micron aerosol particles in real time, mass concentrations of organics, sulfate, nitrate, ammonium, and chloride).
We will be pleased to provide details of instruments and emerging instrument technologies useful for research in atmospheric sciences.