I am interested in this product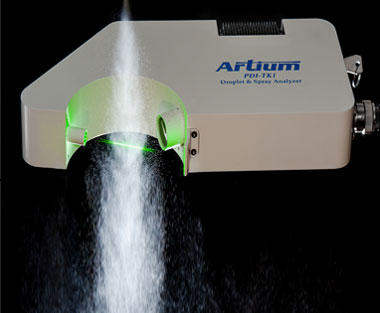 PDI measures the diameter and velocity of small droplets.
I am interested in this product
Downloads
Detailed Specs
The measurement of drop size distribution and mean values can be done without the requirement of assuming a distribution function. It is based on the laser light wavelength which is known to high accuracy. The particle sizing is independent of light intensity so attenuation and window contamination have a minimal effect on drop sizing performance. Artium's PDI system consists of an optical transmitter, optical receiver, signal processor (ASA), the instrument control computer, and the software (AIMS). Artium offers a variety of optical designs to meet different spray applications. Systems capable of measuring droplet size and 1-, 2-, or 3-components of velocity are available either in a modular or self-contained design configurations. The laser wavelengths and power can be customized based on the application and user needs. A flight probe design is available for in-flight applications such as cloud characterization or aircraft icing research. The standard flight probe is a capable of measuring size and a single component of velocity. A dual-size range flight probe is also available.