I am interested in this product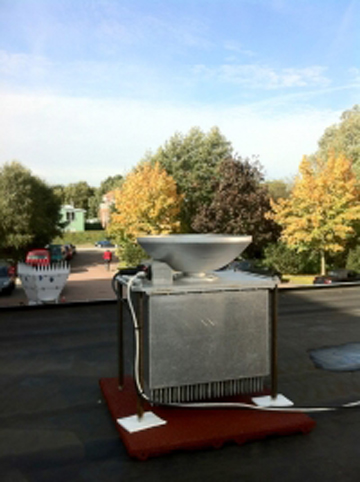 MIRA-35c is a compact and low-energy-consuming magnetron-based pulsed Ka-Band Doppler radar with very high sensitivity.
I am interested in this product
Downloads
Detailed Specs
The radar is designed to detect atmospheric clouds and fog, transmitting a linear polarised signal while receiving co- and cross-polarised signals simultaneously to detect Doppler spectra of reflectivity and linear de-polarisation ratio (LDR).
The reflectivity is used to determine the density of cloud constituents, and LDR helps to identify the target type. MIRA-35c uses a magnetron with a lower peak power as compared to the high-end MIRA-35. This loss is partly compensated as the lower peak power causes less attenuation in the transmit-receive switch. Furthermore, the compact design of the MIRA-35c reduces internal waveguide losses, so in total the sensitivity is only 8 dB less than for the MIRA-35.
The radar components of the MIRA-35c are installed in a weatherproof outdoor enclosure with dimensions of 45cm/55cm/50cm. This enclosure hosts the transmitter, the receiver and the MicroBlaze-based signal processor board, and also supports the radar antenna. An extra radar-PC (standard indoor type) needed for saving raw radar data via Ethernet line, second-stage data processing, data visualisation and remote control via internet access are installed separately in a temperature-controlled shelter or inside an optionally offered trailer.