I am interested in this product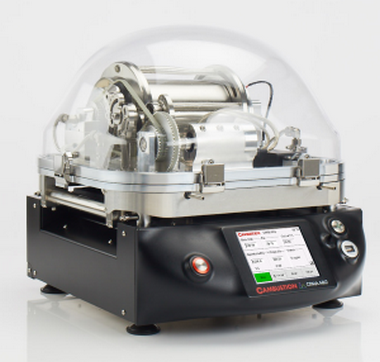 The Centrifugal Particle Mass Analyzer (CPMA) allows direct classification of aerosol by mass-to-charge ratio, with an unrivalled transfer function. The CPMA uses opposing electrical and centrifugal fields to classify particles, with the ability to vary the electrical field and rotation speed to select different particle masses. Unique features of the CPMA allow a very high transmission efficiency of aerosol particles with the selected mass, making the CPMA attractive for a range of applications.
I am interested in this product
Detailed Specs
The absolute limits on the operation range of the CPMA depend on the sample flow
Mass range: 0.2 ag – 1,050 fg
Equivalent diameter range at unit density: 7 nm – 1.3 μm
Mass accuracy: 5 % or better (across the whole size range)
Switchable polarity for positive or negative particles
Aerosol flow meter accessory for the CPMA – Offers real time measurement of the aerosol flow (via orifice delta P) and interfaces with the CPMA for power and data output.
Direct interface with the DMT SP2 for black carbon studies
Data inversion algorithm for CPMA-SP2
This inversion algorithm can be used for determining the mixing state of black carbon from experiments combining the CPMA and DMT's Single Particle Soot Photometer (SP2). For the technical background, please see Broda et al. (2017) in downloads. The utility requires Igor Pro 7 for PC or Mac.
With a touchscreen display and a variety of interfacing options, the CPMA is self-contained, with no setup required – only electrical power needs to be connected before the CPMA can be run. The CPMA can record data to a USB drive, and supports analog and digital interfacing with a variety of CPCs, electrometers and other devices. The CPMA classifier can easily be dissembled for cleaning by the user, the whole process taking less than 1 hour. All necessary tools are included. This makes the CPMA well suited to high concentration / longer duration experiments, and field or laboratory studies. The CPMA uses standard sealed bearings, for maintenance free operation.
The CPMA can interface with any detector with an analogue output connection, or to most detectors with an RS232 interface. Current serial communications pre-sets include: Aerosol Devices MAGIC CPC, Airmodus A20 CPCs, Brechtel 1720, DMT SP2, Grimm CPCs, Palas UF CPCs, TSI 30xx and 37xx series CPCs (including water based CPCs), Keithley 651x electrometers and TSI 3068B aerosol electrometers.