I am interested in this product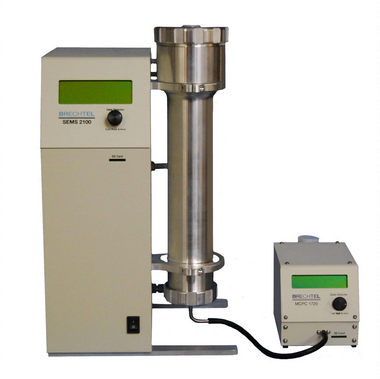 The SEMS is a scanning mobility spectrometer that allows rapid aerosol number size distribution measurements. Scan times of just a few seconds are possible. It also serves as a monodisperse particle generator to calibrate other particle instruments. The SEMS is an easy-to-use and field-ready tool. With an intuitive software interface, the SEMS is easy to configure with quick data post-processing capabilities. Plotting and analysis tools allow you to plot and analyse your data during acquisition. With the broadest size range commercially available, the SEMS can satisfy more scientific needs and adapt to changing research priorities.
I am interested in this product
Detailed Specs
Broad operating pressure range allows use on aircraft – tested to 200 mb
Fully automated, unattended operation
Monodisperse particle selection and scanning software with on-line inversion
Off-line inversion software for data re-processing when needed
Configuration, calibration, and characteristic time software utilities
Selectable particle diameter size range: 0.005—1.0 or 0.01 – 2.0 μm NOTE¹
Size resolution (set by Qaer/Qsheath): Variable (28:1 typical)
Scan time range: 5 secs to > 1 hour
Sheath flow range: 2.5-12 lpm
Aerosol sample flow range: 0.1 to 2.0 lpm
Particle concentration range: 1-10⁸ /cm³
Range of high voltage: 0-6,000 Volts
Pre-impactor cut size diameter: 0.5 or 1.0 μm
Communications: Ethernet and RS-232
CPC working fluid: 1-Butanol
Operating Temperature: 15-35°C
Operating Pressure: 200-1,000 mb NOTE²
Physical size: 48 x 33 x 56 cm
Weight : 16 kg
Power usage: 80 watts (85 to 230 VAC)
Notes:
2 micron sizing with SEMS-DMA-UG option.
Only with SEMS-ExP options.