I am interested in this product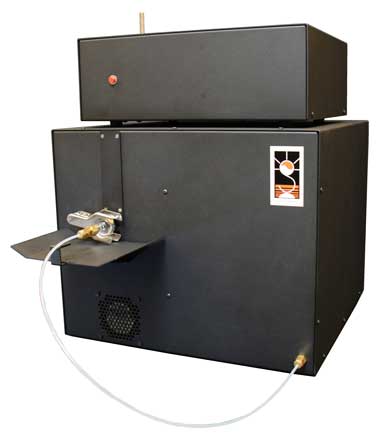 The Model 5 Lab OC-EC uses a proven thermal-optical method to analyse for organic and elemental carbon aerosols collected on quartz filters. The instrument has a temperature controlled diode laser, an integrated 16-bit data system/CPU board, power control hardware, automated flow controls, and software making this OC-EC analyser unsurpassed for reliability. The samples are thermally desorbed from the filter medium under an inert helium atmosphere followed by an oxidising atmosphere using carefully controlled heating ramps. A flame ionisation detector (FID) is used to monitor the analysis. Proven low dead volume carrier gas control system and proprietary quartz oven design provide high sensitivity with ultra-low carbon background and no oxygen contamination. This instrument has been used to analyse a wide variety of sample types, including: ambient urban and rural areas, national parklands, forest fire plumes and oil fires from the Gulf War. The standard instrument is a manual introduction for filter analysis, however, an autoloader can be purchased for customers in need of unattended analysis.
I am interested in this product
Detailed Specs
M5L OCEC instrument with TOT or TOT/TOR option
Latest Version of Operation & Calculation Software
Diode Laser optical system (660 ± 5 nm)
FID/ Methanation Oven Unit
Electronic Flow control system
CPU Controller
Operator, service and maintenance manuals
Controlling Computer with Windows 10 Professional
Spare parts and supplies included:
Heater-coils – Qty 3 (one for each oven)
Spare Methanation tube – Qty 1
Spare Quartz-Oven – Qty 1
Spare Sample Boats – Qty 2
100 feet of pre-cleaned tubing for carrier gas lines.
Performance Characteristics
Range: TC – 0.2 to 600 ug/cm2
Range: OC – 0.2 to 600 ug/cm2
Range: EC – 0.2 to 30 ug/cm2
Limit of Detection – 0.10 ug/cm2
Measurement Method (User Configurable)
NIOSH 5040
EUSAAR2
IMPROVE-A
User defined custom applications
External Standard – Uses an external standard calibration gas. A fixed-loop volume of this gas in injected at the end of every analysis. All calculated results are referenced against this external standard.
Primary calibrations are referenced against sucrose solutions or NIST traceable gas standards. NIST traceable gas standards are USER provided and must be ordered separately if desired.
Support Gases to be supplied by customer:
Helium (99.999% or better).
Helium (99.999% or better) with 10% Oxygen balance; Oxygen should be 99.995% purity or better.
Helium (99.999% or better) with 5% Methane balance; Methane should be 99.99% or better.
Air ("Ultra-zero" grade preferred; "zero" air is sufficient).
Hydrogen (99.999% or better).