I am interested in this product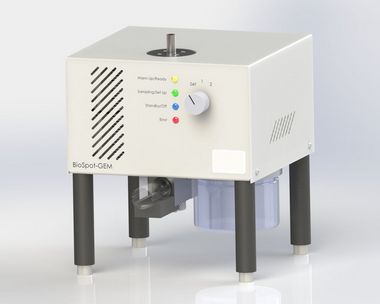 Aerosol sampling can be used to monitor the presence of airborne pathogens like SARS-CoV-2, SARS1, MERS, influenza, measles, chicken pox, tuberculosis, Legionella bacterium, anthrax, hanta virus, norovirus, others that are naturally occurring or could be intentionally released by a bioterrorist. The condensation growth tube (CGT) method of air sampling for biological materials is a novel technique and is a compact, rugged and easy to use, fully integrated collector. This method ensures the integrity of the sample by its gentle collection onto a readily available swab. The unique opportunity about collecting a swab sample is that the analysis method for the SARs-CoV-2 virus, is readily available through laboratories and owners of PCR instruments. Store the sample swab tip in the sterile vial until it is analysed. The genomic preservative preserves the sample for up to a month at room temp.
I am interested in this product
Downloads
Detailed Specs
Particle Size Range: <10nm to 10μm
Collection Substrate: Sterilized commercial swab
Collection Efficiency: >95%
Maximum Particle Concentration: Zero to 105 particles/cm3
Condensing Fluid: Water, distilled or cleaner
Sample Flow Rate:1.2 L/min
Sampled Aerosol Conditions: Non-corrosive, 0 – 40 degrees C
Sample Method: Sterile swab can be stabilized with genomic preservative
Sample Duration: 2 pre-set options user selectable
Controls: 3-position dial for setup, starting sampling and duration (2 pre-set times)
Status Indicator Lights: 4 colour LED indicating warm up/ready, sampling/setup, standby/off, error
Communications: USB serial for setting sample time options; output for sampling parameters and instrument status
Firmware updatable with flash drive
Environmental Operating Conditions: 10 – 35 degrees C, 10 – 95% RH, non-condensing
Sample Inlet: 10mm OD SS tube
Sample line cleaning: Ozone, alcohol rinse, hydrogen peroxide
Instrument Decontamination: Recommend VHP
Power: 90-240 VAC/50-60 Hz; output voltage is 12.0 V DC
Noise: Quiet for unobtrusive sampling; <40dB
Dimensions: 9.5"Hx8.4"Wx8.0"D
Weight: 2.7 kgs.