I am interested in this product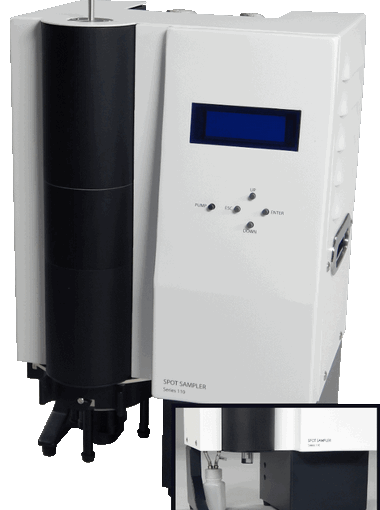 The Series 110A Universal Spot Sampler provides maximum flexibility for aerosol research requiring a variety of analytical approaches. The common growth tube platform accommodates easy exchange between Liquid Spot and Sequential Spot Collector modules.
I am interested in this product
Downloads
Detailed Specs
Patented water condensation technology for high collection efficiency
New three-stage condensation technology with no heating of the air flow (patent pending)
Sequential, uninterrupted, time-resolved sampling for dry particle collection
Concentrated sample deposition
Elimination of laboratory sample handling
Low acquisition and operating cost
Sample plate options
Particle Size Range – 5nm to >2.5μm dry collection; 5nm to >10μm wet collection
Collection Efficiency – >95% for dry collection; >90% for wet collection
Condensing Fluid- Water, distilled or cleaner
Wick Material – DVPP00010 Durapore Membrane Filter (Millipore) formed into a 30 cm long (6.35 mm OD x 4.8 mm ID) roll
Sample Flow Rate- 1.0 – 1.5 L/min (user adjustable)
Sample Aerosol Conditions – Non-corrosive; 0 – 40 degrees C
Sequential Sampling into Multi-well Sample Plate – 32 well plates available with circular well shape (75 μL well volume) or teardrop well shape (120 μL well volume). PEEK® polymer or bare aluminium. Other materials and configurations are possible.
Sequential Sample Time – User selectable sample time in each well from 1 minute to 24 hours
Dry Deposition Area – Approx. 1-mm diameter
Liquid Sampling – Flat or conical bottom collection vial made of polycarbonate. Volume of 0.65 mL for liquid or gel substrate. Flat bottom ported vial includes two M3 SS barb fittings with Nylon washer for 1.5mm ID flexible tubing (Tygon® or Teflon® recommended). Conical ported vial uses a M6 thread that accepts IDEX/UpChurch flangeless fittings. Other configurations are possible.
Model SS110A Universal Spot Sampler includes the Growth Tube and both the Sequential Spot Collector and Liquid Spot Collector modules. The PAL700 Autosampler is sold separately.
A PAL3-LSI Autosampler with a sample plate tray facilitates automated chemical analysis without requiring user extraction or manipulation of the particle sample. The PAL3-LSI Autosampler is configured for common wet chemistry analysis applications including ion chromatography (IC) and high-performance liquid chromatography (HPLC). Model PAL700 Autosampler includes a base PAL3-LSI system with tray holder, fast wash module for two solvents, valve drive module for VICI valve, 6-port Cheminert injection valve, two trays for 54 vials of 2mL, two 100ul x-line syringe – fixed needle (gauge 22s, PST3), safety guard, power cables, and PAL Sample Control Software. A Sample Plate Tray for the multi-well sample plate plus 10 vials of 2 mL is sold separately.