I am interested in this product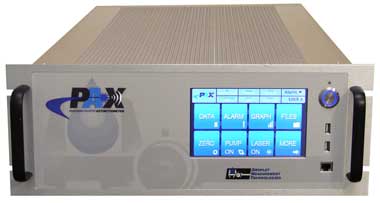 Sensitive, high-resolution, fast-response instrument for measuring optical aerosol properties for climate radiative forcing and carbon particle sensing.
I am interested in this product
Downloads
Detailed Specs
Measured Parameters: Absorption coefficient, Babs Scattering coefficient, Bscat
Auxiliary Parameters: Temperature Pressure Relative Humidity
Derived Parameters: Black carbon (BC) mass Extinction coefficient, Bext Single scattering albedo, SSA Dew Point
Measurement Range – Absorption and Scattering: < 1 Mm-1 – 10,000 Mm-1 (870 nm, 60 sec. averaging)
Laser: 870 nm (1.4 W) Modulation Frequency: 1500 Hz nominal, square wave
Angular Integration for Scattering: 6° to 174°
Sample Flow: 1 L/min Flow Control: Critical orifice Diaphragm Pump
Response Time: < 10 sec; one-second resolution
Data Averaging Time: 1, 10 or 60 seconds, user selectable
Zero Check: On demand, or automated at user selectable interval at 5, 15, 20, 30, or 60 minutes. Zero check with high-efficiency filtered air sample.
Front Panel Features
Graphical colour touch-panel display screen
Two USB-A ports
Power switch
User interface via touch screen or standard keyboard
Rear Panel Connections
Sample inlet (compression fitting for ¼" tube)
Pump exhaust (compression fitting for ¼" tube)
AC and DC power connections
Serial RS-232 jack
Ethernet port
Two analog BNC inputs
Four analog BNC outputs
Data Storage Capacity: > 200 days
Communications Output: Ethernet 100/10 Mbps, RS-232 Serial
Power Requirements: 90 – 264 V, 47 – 63 Hz (AC Power) or 12 VDC Power Consumption 45 W
Dimensions: 18 cm H x 48 cm W x 61 cm D; rack mountable
Weight : 18 kg
Environmental Operating Conditions Temperature: 0 – 40°C (32 – 104°F) RH: 0 – 90% RH non-condensing
Computer Requirements for PMC Software (Computer not included):
Windows XP, Vista, or Windows 7
Minimum 1GB RAM
Accessories
Hard-shell shipping case suitable for frequent travel
PM 1.0 cyclone inlet (1 litre/min) for particle size selection
PM 2.5 cyclone inlet (1 litre/min) for particle size selection