I am interested in this product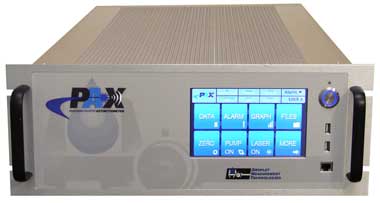 Sensitive, high-resolution, fast-response instrument for measuring optical aerosol properties for climate radiative forcing and carbon particle sensing.
I am interested in this product
Downloads
Detailed Specs
The PAX uses a modulated diode laser to simultaneously measure light scattering and absorption. The standard 870-nm wavelength is especially sensitive to black carbon particles, since there is relatively little absorption from gases and non-BC aerosol species at this wavelength. PAX laser wavelength options:
Red (870 nm) – absorption is highly specific for black carbon (soot) particles; scattering best for large particles
Green (532 nm) – measures in the visual range, typically what the human eye observes
Blue (405 nm) – absorption correlates to the organic, or brown carbon content; efficient scattering for fine and ultrafine particles
A 1 L/min aerosol sample flow is drawn into the PAX using an internal vacuum pump controlled by two critical orifices. The flow is split between the Nephelometer and photo acoustic resonator for simultaneous measurement of light scattering and absorption. The absorption measurement uses in-situ photo acoustic technology. A laser beam directed through the aerosol stream is modulated at the resonant frequency of the acoustic chamber. Absorbing particles heat up and quickly transfer heat to the surrounding air. The periodic heating produces pressure waves that can be detected with a sensitive microphone. The system then determines the resonator quality factor and resonance frequency, which are needed to quantitatively determine aerosol light absorption. Phase-sensitive detection is used for all sensors. The PAX uses a wide-angle integrating reciprocal Nephelometer to measure the light scattering coefficient. The scattering measurement responds to all particle types regardless of chemical makeup, mixing state, or morphology.