I am interested in this product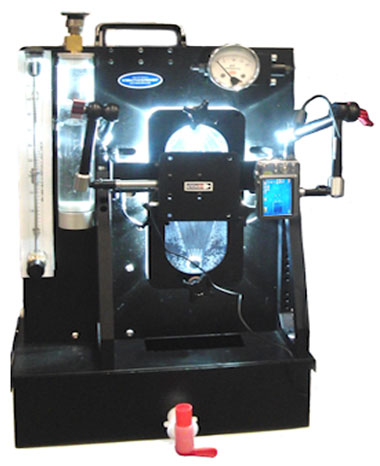 Comes with FLOWEX™ Software.
I am interested in this product
Downloads
Detailed Specs
Laminar, Transition & Turbulent Flow Visualization.
Flow Rate & Pressure Measurement.
Fluid mechanics principles can be studied with different flow model inserts.
Interchangeable Flow Model Inserts.
User can design custom Flow Model Inserts.
Transient & Steady State Flow Fields.
Portable. Take it into any classroom.
Ability to vary flow speed dynamically studying flow speed effect on flow phenomena.
Global Flow Field Velocity Measurement with particle image Velocimetry.
Add seeding for flow visualization & particle image Velocimetry.
Ability to increase the PIV seeding density on the fly.
Change back & forth between foamy and clear water dynamically during experiment for a great flow -visualization experience
Add or remove air bubbles dynamically during experiment for great visualization and analysis.
Reynolds number for the venturi insert: Re=25,000 at the 5mmx5mm narrowest cross section and Re=3,000 at 80mmx5mm cross section based on water with valve fully open.
Differential pressure for the venturi insert is about 1 psi.
Self cleaning flow model. Don't have to open the flow model to clean the surfaces.
Integrated digital camera for real-time laminar & turbulent flow visualization, and laminar PIV analysis.
Software can support multiple video formats which means the user can use their own digital camera for flow visualization and PIV analysis.
Add colour.
Quiet operation.
Interactive & highly visual.
Easy to use and set up.
Optional miniPIV system add on for enhanced PIV analysis.
Optional miniLDV system add on.