I am interested in this product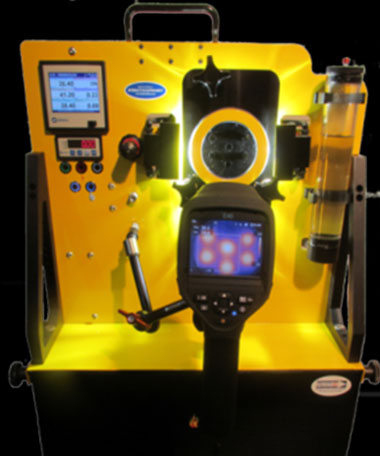 Comes with FLOWEX™ Software.
I am interested in this product
Downloads
Detailed Specs
Heat transfer, Laminar, Transition & Turbulent Flow Visualization.
Temperature, Flow Rate & Pressure Measurement with digital user friendly multi-channel display, controller and data acquisition system.
Heat Transfer & Fluid mechanics principles can be studied with different Interchangeable Heated Flow Model Inserts or user can design custom Flow Model Inserts.
FLIR Thermal Imaging Camera provides dynamic global temperature visualization of the flow and flow model insert.
Global Flow Field Velocity Measurement with Particle Image Velocimetry (PIV).
Integrated LED based miniPIV system with digital camera for PIV flow visualization and analysis.
Transient & Steady State Flow Fields.
Portable. Take it into any classroom.
Ability to vary flow speed dynamically studying flow speed effect on heat transfer & fluid flow phenomena.
Add seeding for flow visualization & Particle Image Velocimetry.
Ability to increase the PIV seeding density on the fly.
Water or Air flow or a combination of both.
Add or remove air bubbles dynamically during experiment for great visualization and analysis.
Self cleaning flow model. Don't have to open the flow model to clean the surfaces.
Software can support multiple video formats which means the user can use their own digital camera for flow visualization and PIV analysis.
Add colour.
Quiet operation.
Automatic control of the heater with built in temperature limits and safety features.
Interactive & highly visual.
Easy to use and set up.
Optional miniLDV system add on.